Matthew Dicks coaches and consults with individuals, nonprofits, corporations, colleges and universities, religious institutions, and many more on storytelling, communications, public speaking, and messaging.
Individual coaching
Corporate training
Social media messaging
Story slam and showcase production
School district consultation/training
Religious training
Novel/screenplay consultation
Memoir consultation.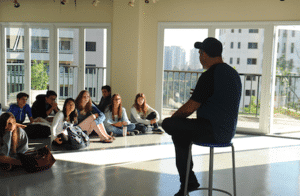 Homework for Life is a system delivered via workshop or individual coaching that teaches people to find, collect, and reflect upon the multitude of storyworthy moments of their lives in order to generate content for stories, shift personal perspectives, find greater meaning in life, and promote happiness.
Homework For Life can also be implemented in the corporate and nonprofit setting in order to collect and monetize stories from the organization for the purposes of advertising and marketing, training, public relations, and promotion.
Contact Matthew for details on how he can help you implement this system into your personal or professional life or into your business, nonprofit, or corporate culture.