I'm launching an email newsletter. What should be included?
The publishing Gods (Jane Friedman and many others) have declared that the most important tool that an author has for building a platform and marketing a book is a strong mailing list and a regular newsletter.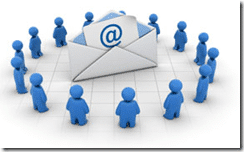 Having used a mailing list as the sole means of promoting Speak Up, our Hartford-based storytelling organization, I have come to understand the power of this seemingly old fashioned form of marketing. We have sold out every one of our shows simply through the power of an email.
I've been collecting email addresses for more than five years. There's a place on my website and blog to enter your email for my mailing list, and this somewhat annoying field disappears once you have signed up. After five years, I have a surprisingly large mailing list.
The question is what to include in a newsletter.
Here are my ideas so far:
Links to the top 3 blog posts from the previous week, with commentary about reactions to the post when appropriate
Updates on upcoming storytelling and speaking appearances
Links to any recent videos of me performing for The Moth, TED and similar organizations
An update on the progress of my books and any behind-the-scenes peeks into the publishing world that I could provide.
Do you have any thoughts on what you'd like to see included in a newsletter from someone like me? I'd love to hear your thoughts. Since I write a blog and post regularly, I'm looking for content that does not appear already on the blog. Something different and special that will make people open the newsletter when it arrives in their inbox.
The experts say I should be sending a newsletter to my readers at least once a month, and preferably one a week. I 'm considering splitting the difference and sending one every other week.
I'd love to hear your thoughts on this as well.