Christmas Day 2019 round up
Twas the night before Christmas, when all through the house, not a creature was stirring. Not even a mouse.
Mostly because we don't have rodents living in our home. If we did, I would hire an exterminator immediately.
Then children were nestled, all snug in their beds, with visions of sugar plums dancing in their heads.
Just kidding. What the hell is a sugar plum anyway?
This was the moment when I decided that it would be the perfect time to clean out the pantry. Organize things a bit. The perfect Christmas Eve activity. As I sorted through bottles and cans and inspected expiration dates, I found some bottles of lemonade and iced tea that had expired during the first Obama administration. I tossed them into a garbage bag with a bunch of other less-than-fresh items and brought them outside to the trash.
As I crossed the driveway, the bag broke open. The bottles hit the pavement, One broke. A shard of glass pierced my slipper and lodged itself into the bottom of my foot. It hurt like hell.
Elysha managed to extract the glass from my foot with tweezers. A little Christmas Eve surgery.
It still hurts a little.
Not a great start to Christmas.
_______________________________
As expected, my favorite moment of Christmas was the early morning hours before the children came down the stairs and rain across the living room floor to open their presents. For me, anticipation, excitement, and expectation are far better than all that ever follows, so these moments before the festivities begin are always my favorite.
Seeing the kids peak from between the rails of the bannister at their gifts was also pretty great.
Our children are exceptionally appreciative about the gifts they receive. I always feel blessed by the gratitude they express. Watching them open their presents and shout out in excitement is pretty great, too.
This day was no different
Charlie received a book on chemistry from Santa. As he showed it to Clara, she said, "Maybe it has a periodic table of elements inside."
"I hope so!" Charlie said.
My kids are wicked smart.
_______________________________
My brother was the first person to arrive on Christmas day. We chatted for about three hours about many things. I learned that:
My grandfather on my mother's side was an Army Ranger in World War II and a recipient of the Bronze Star. I knew he fought in Europe during the war, but in Jeremy's words, "Pépère was a bad ass."
My grandfather on my father's side also fought in World War II, eventually becoming a machinist in the European theater. I also knew that he had fought in the war, but didn't know where or what he did.
My great grandfather on my father's side – who I knew well as a boy – fought in World War I as a sailor in the US Navy. I did not know this at all.
Considering that my father was drafted and fought in Vietnam, this means that my brother and I are the first generation in our family who did not go to war.
Lucky us.
Especially lucky for my brother. He enlisted in the Army in 1990 right out of high school and was preparing for deployment to Operation Desert Storm when the National Guard unit to which his unit was attached and was training went AWOL, making national news and delaying, and ultimately preventing, my brother's unit from deploying.
Crazy. Without those guys going AWOL, Jeremy would've fought in Kuwait or Iraq.
Jeremy first learned of the National Guard unit going AWOL on the front cover of USA Today one early morning. Up until then, he had assumed that the National Guard unit was still present on the training site.
President Clinton later pardoned the two men in command of the unit.
_______________________________
Elysha put our friend Kaia, and then others, to work frosting her cookies. It turned out to be lots of fun for all involved, and I think it's something she should do every year.
Delegation is a beautiful thing.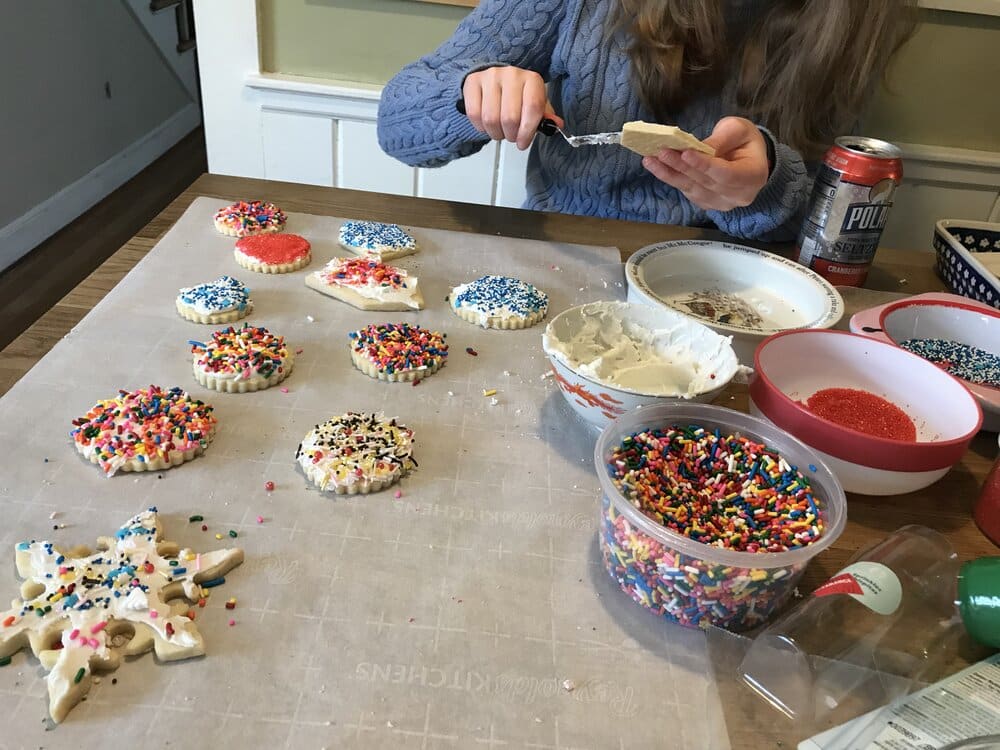 We purchased four new chairs for the kids' art table last week. I thought that with a couple hours to kill on Christmas morning, I would assemble them. I spent 90 minutes putting one of the chairs together. Later, Elysha spent less than 45 minutes putting together the other three and fixing the one I put together because I suck.
This is why Elysha assembles most things in our family.
_______________________________
I looked it up. A sugar plum is "a comfit—that is, a seed, nut, or scrap of spice coated with a layer of hard sugar."
Yeah, no one has dreamed of a sugar plum in at least a hundred years. If ever.
I hope your Christmas day was as delightful as mine.