Taylor Swift teaches a valuable lesson to all content creators.
If you haven't seen Taylor Swift's Christmas video, you should.
It's a lovely thing, but it's also an exceptionally valuable lesson for anyone who creates content. Actors. Writers. Artists. Musicians. Designers. Anyone.
Treat the people who make your work possible very, very well.
My agent, Taryn, once told me that although she thinks I'm a talented writer and a great storyteller, one of my greatest attributes is that I treat people with kindness and respect.
Basically, I'm not a jackass.
This may come as a surprise some of my friends, but it's true.
I'm polite and respectful to my editors and the professionals at my publishing house. I respond to every email and tweet from my readers. I bend over backwards for bookstores and libraries. I'm accommodating to the organizers of literary festivals and speaking tours.
Taryn said that it's much easier to sell my books when the people who buy them know that I'm not a jerk. That I am a decent person to work with.
I think this was probably Taryn's way of warning me not to become a jerk, which can apparently happen after someone sells their first book.
I didn't understand her concern at the time, but since publishing my first novel in 2009, I've had the honor of meeting many, many authors. Most of them are kind, humble, generous souls. The salt of the Earth. The best of the best. Truly some of the finest people who I have ever known.
But there is a very specific segment of authors and unpublished writers who are not nice. They are entitled, arrogant, rude, angry, demanding jerk faces.
They are also almost all men. This may simply be a reflection of my personal experience, but probably not.
I suspect that the same is probably true for musicians and celebrities like Taylor Swift. Most are kind, generous, and polite. Some are probably not.
I was not a Taylor Swift fan prior to watching her Christmas video. Her music was fine, but I didn't pay much attention to it. I would occasionally play her songs her songs at weddings, but I didn't have any Taylor Swift songs in my musical rotation. Other than a handful of her hits, I didn't know any of her work.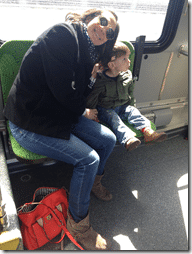 After seeing this video, I'm an enormous Taylor Swift fan. I'm not sure if I like her music any more than before, but I like Taylor Swift as a person a whole lot. I'm much more likely to give her music a chance now. More inclined to watch a video on YouTube.
This was a very smart thing for Taylor Swift to do, but most important, it strikes me as exceptionally genuine. I felt like I was watching a real person doing real things for real fans. I felt like I was seeing the real Taylor Swift.
Perhaps I'm naive. Maybe the video was a carefully orchestrated, cleverly choreographed production by a team of promoters and marketers, but I don't think so.
I think that Taylor Swift is probably an exceptionally kind person. Someone who knows how to treat her fans. Someone who values them and understands what they have meant to her career.
Taylor Swift has a new fan today thanks to that video, and she's reminded me about the importance of treating my substantially fewer fans well. To go above and beyond whenever possible. To thank them for making it possible to do what I do.
I might not be sending Christmas presents next December, but I'll be watching for ways to let my readers know how much I appreciate them.