My possibly petulant "I told you so" climate change Kickstarter idea: I need your feedback. Am I an idiot?
Earlier in the week, I wrote about the sound byte being used by Republicans in response to questions about the existence of climate change:
"I'm not a scientist."
Variations of this ridiculous statement include:
"The science isn't all there yet."
"I've heard arguments from both sides of the scientific aisle."
House Speaker John Boehner: "Listen, I'm not qualified to debate the science over climate change. But I am astute enough to understand that every proposal that has come out of this administration to deal with climate change involves hurting our economy and killing American jobs."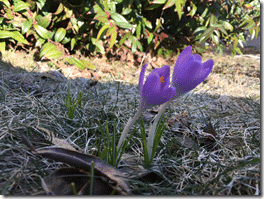 Here's the thing:
When a politician tells us that he does not believe in climate change or does not accept that climate change is the result of human activity or can't be certain enough about the science to take action, he or she is either lying or stupid. The science is simply too overwhelmingly in favor of manmade climate change for anyone with half a brain to deny it.
The latest report from the United Nations' Intergovernmental Panel On Climate Change (IPCC) — a massive international effort to synthesized scientific knowledge on climate change from around the world — concluded with 95 percent certainty that the vast majority of the rise in global temperatures observed since the 1950s has been man-made. (Ninety-five percent is the same certainty that scientists assign to the assertion that cigarettes kill.)
It's simply become impossible to deny climate change, which is why this "I am not a scientist" sound byte has come into fashion. Claim a lack of expertise and training and you don't have to take a stand.
Convenient. Stupid but convenient.
More than likely, these "I am not a scientist" politicians are receiving campaign contribution from oil, coal, or natural gas companies and do not want that funding to dry up.
The largest contributors to John Boehner's campaign, for example, are gas and oil companies.
But even those of us being paid by the fossil fuel companies to keep silent or plead ignorance know that climate change is real, and in the not-too-distant future, when sea levels rise to the point that the map begins to change and once valuable real estate is underwater, denying it will be even more difficult.
There will come a day when man made climate change will be undeniable by even the most ardent fossil fuel advocates.
My fear is that the politicians who are denying the existence of manmade climate change today will be forgotten tomorrow. Thanks to the short memories of the American people and the disregard for history, these men and women lie with impunity, knowing that they will no longer be in office and will probably be dead by the time large portions of southern Florida are underwater.
They are relying on the fact that history can be slippery and forgetful.
Ask an average American how many US Presidents have been assassinated while in office, and he or she will likely say two.
Just imagine: Two United States Presidents were murdered while in office after Lincoln's assassination, and they have been all but forgotten.
What does John Boehner have to fear when he lies about climate change? Who will ever remember his lies in light of everything else that is forgotten.
But in the not-to-distant future, my children, or perhaps my children's children, will ask me what the hell we were doing when there was still time to reduce CO2 levels, impose a carbon tax, and make serious investments in green energy. They will want to know why we fiddled while Rome burned, and I want to be able to name names. I want to be able to tell them the names of the liars who took no action and impeded the action of others in the face of over whelming scientific evidence. I want those names etched in history.
So my Kickstarter idea:
I'd like to publish a book entitled:
United States Politicians in 2015 Who Denied the Existence of Manmade Climate Change Despite Overwhelming and Undeniable Scientific Evidence in Order to Further Their Political Careers At the Expense of Future Generations
Each page of this book will feature one of the politicians and their exact words in response to questions about climate change.
That's it. Lying politicians and their exact words.
I'd like to print one billion of these books, to ensure that physical copies will exist for future historians, but one billion may be a little unrealistic. But I'd like to convince as many people as possible to purchase this book, and to also have the book logged in the United States Library of Congress.
I want people to place this book, which would be handsomely bound, on their family's bookshelf alongside their copies of The Bible and Huckleberry Finn. I want this book to become a family heirloom. Something passed down from generation to generation.
I want this book read when a father explains to a son that the Des Moines Dolphins were once known as the Miami Dolphins, before Miami was underwater.
Ideally, I'd love to see a granite monument with these politician's names etched into its side, added to yearly like the Stanley Cup, but I'm an author and books are my thing. But if a sculpture is interested in pursuing this project, I'd be more than willing to back it as well.
One of my stretch goals would be to have one of these books printed on a material other than paper. Something that will last a thousand years or more and be kept on display in the Smithsonian Museum of American History.
Maybe thin sheets of gold? Or platinum? Whatever the scientists suggest. Because I may not be a scientist, but I trust them to tell me what material makes the most sense for this project.
So my questions:
Is this a crazy idea?
Would it be ultimately pointless?
Would the Kickstarter be unsuccessful?
Is this merely my way of publishing a petulant, historical "I told you so" that will change nothing?
Would people support something like this?
Would the money be better spent supporting climate change activism or green energy research?
Should I try that monument idea even though I wouldn't begin to know where to start?
What are your thoughts? I really want to know.