My favorite works of fiction
A while back, I was asked to list my favorite favorite books of all time. Since I was asked at a public reading, I couldn't exactly ignore the request, and so I named my first three that came to mind. Though there were at least another half dozen books that I could have added to my list (including Treasure Island, which I think of as my all-time favorite), I was satisfied.
The original three were:
The Tale of Despereaux by Kate DiCamillo
Breakfast of Champions by Kurt Vonnegut
Hamlet by William Shakespeare
Then I made the mistake of listing my top three on the blog and was immediately inundated with requests for a list of the books that I had considered adding to my list.
After some hemming and hawing, I agreed to create a list of my top ten favorite books, which has since expanded to an even dozen.
I considered going for a baker's dozen, but I thought that might be pushing things a bit.
As I started creating my list, I established the following rules:
1. A series of books count as one book. This rule, once established, helped me a great deal.
2. This is only a list of fiction. Had I been forced to include nonfiction on the list, books like The Heart of the Sea, Midnight in the Garden of Good and Evil, Devil in a White City, and everything that Bill Bryson has ever written would have been clamoring for a spot on the list as well.
3. I decided to include plays as well, since so much of my favorite literature was written by Shakespeare. It's fiction, I decided, simply written in a different form.
Are there other books that I wanted to add to my list?
Of course. There was a handful of books that were eventually removed from the list in order to cull it down to just twelve, but these are the dozen that I am standing by.
The list of my 12 favorite works of fiction of all time.
For today, at least.
Breakfast of Champions by Kurt Vonnegut
Treasure Island by Robert Louis Stevenson
Great Expectations by Charles Dickens
Hamlet by William Shakespeare
The Harry Potter series by JK Rowling
Macbeth by William Shakespeare
The Nursery Crime series by Jasper Fforde
The Dark Tower series by Stephen King
The Lord of the Rings series (including The Hobbit) by J.R.R. Tolkien
The Mezzanine by Nicholson Baker
The Tale of Despereaux by Kate DiCamillo
To Kill a Mockingbird by Harper Lee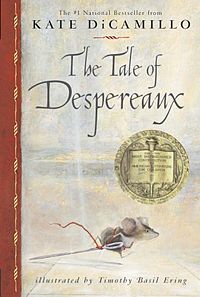 If you have a moment,  I would love to hear your list as well.