Falik took the bathroom. What should Dicks name?
William Falik is my kind of guy.
In honor of his father's 100th birthday, he donated $100,000 dollars to Harvard Law School in order to provide financial assistance to students who are pursuing a less profitable career in public-interest law.
When offered the opportunity to name something at Harvard in honor of his father as well, Falik decided to be unconventional:
"The only thing I ever thought of naming – with my last name – was a men's room,'' says Falik. He proposed that it be called the Falik Gentleman's Lounge, but the powers-that-be at the World's Greatest University didn't go for it, settling instead on the Falik Men's Room. (Falik said his father had an excellent sense of humor and took great pleasure in the naming opportunity.) Remarkably, this isn't the first men's room to bear his name. A few years back, he made a generous donation to the Berkeley Repertory's Roda Theater, and as a result, male patrons spend part of intermission in the Falik Gentlemen's Lounge. "There's humor in this, of course. But, most importantly, it was a donation in honor of my dad as he celebrated his birthday.''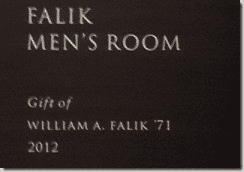 There are few things I admire more than a lack of pretension and the ability to be self-deprecating. William Falik seems to possess these qualities in great measure.
He also leaves me wondering what I might choose to bear my equally suggestive last name when I make my fortune and become equally philanthropic. Falik has already taken the idea of naming the men's room, so I need something new and original. Something truly befitting this burden of a last name.
Thoughts? Ideas? Please?